Traditional, Modern & Contemporary Indian Art

Traditional, Modern & Contemporary Indian Art JAMINI ROY (1887 - 1972)
RELATED LOTS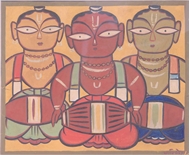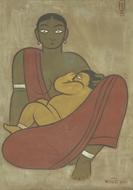 Provenance Provenance

Originally in the Cossimbazar House collection
Acquired from the above
Private Collection, Bengaluru
Literature Literature

Jamini Roy's name is at the forefront of Indian art history for popularizing Bengal's folk art in contemporary times. Using the language of the kalighat and patua traditions from the Bengal region, he depicts a whole host of subjects. From the mythological to the modern, he imbues his figures with a visual identity that is drawn from the folk and tribal traditions of India. His works have a distinctive character, immediately recognizable in the almost exaggerated outlines, the large, expressive eyes and the vibrant and natural colour palette. The pigments he used were made from minerals and vegetables, lending an earthiness to the resulting work.

This full-bodied tempera on board painting of Shiva, Parvati and Ganesha (alongside attendants) has a familial theme, albeit a family that is part of the revered Hindu pantheon. It is a true example of his distinctive vegetal colours and earthiness.

As the famed story of Ganesha's birth goes, the Goddess Parvati was preparing for her holy bath at Mount Kailash while her husband, the Lord Shiva was away. The Goddess created a boy from the turmeric paste she would bathe with; she called this boy her son and posted him at the door to guard her as she bathed. Lord Shiva, returning prematurely, found the strange boy who would not let him enter his own abode; in a fury Shiva beheaded the boy when Parvati rushed to him and explained the story. To make amends, Shiva resurrected the boy by adding the head of an elephant and breathing life back into him; thus Ganesha, as we recognise him, took birth. The peace and happiness of the heavenly family can be felt now in this work, that is permeated by a sense of togetherness.
Notes Notes

The origins of this work harkens back to the family of the Cossimbazar House.
Cossimbazar is a branch of the Ganges on which the city of Murshidabad stands, where the Cossimbazar House were involved in the silk trade. "Trading in silk was profitable (up to 300 per cent on some items) but his (Cantoo Baboo, a prominent head of the house) later land and Zemindaris was even more so" (edited by Margot Finn and Kate Smith, East India Company at Home, 1757-1857, pg 420-421, UCL Press, 2018). It was active in the educational, social, religious and political currents of the times and was known for their philanthropy.
Like the affluent Zamindar families/Thakurbadis of the time, the Cossimbazar House too patronized the arts, giving the artists the impetus to flourish.
Condition Notes