Significant Indian Paintings

Significant Indian Paintings JAMINI ROY (1887 - 1972)
RELATED LOTS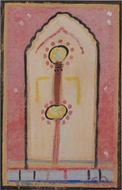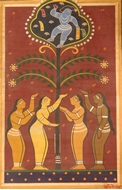 CONTACT US
Catalogue & Viewing
Lot Closed

Accounts & Shipping
Lot Closed

Literature Literature

From the early 1920s onwards, Jamini Roy, then in his mid-thirties, made the decisive shift from European realism to a 'Native Primitivism'. He is known to have said "It was not possible for me to paint in an European way, nor in Chinese or Tibetan.... because I was not in their milieu." In his endeavor for truthful originality Jamini returned to his native Bankura and diligently studied with the patuas (traditional craftsmen) their unique style and technique that had been continuing since generations.

The task of unlearning academic schooling to embrace spontaneous naiveté was not easy nor was the idea of deriving a personal idiom of modern concept from a popular expressionism. It involved endless tribulations in the form of practice as well as research. Finally after a seven year hiatus from the contemporary art scene, the artist succeeded in substituting the conventional 'high art' by the pictorial values of a rustic 'popular' art. It incorporated aspects of symmetry, centralised focus and a deliberate application of two-dimensionality. Invoking the precedent formalism of Kalighat Patas, rural folk art traditions of Bengal and Orissa like scroll paintings (Patachitra), toys in clay, wood and metal (Shasti Putul, Bou Putul, & Dokra castings), Terracotta templates of Bankura and Bishnupur, Jain miniatures and finally Egyptian murals and Byzantine mosaics; Jamini evolved a new pictorial identity.

'Santhal Mother & Child' draws comparison to both stylistic and contextual traditional of the rural dolls of Bengal. It demonstrates the spontaneous formal delineations of the wooden 'Bou Putul' dolls as well as the tender maternal sentiments of the nursing terracotta fertility dolls, the 'Shasti Putul'. An obvious parallel to these rustic attributes are echoed in the Kalighat paintings and perhaps explains why Jamini's style of work has so often been compared with the latter. The ingenuity of the artist however lies in the fact that he takes his creation beyond mythological connotations and firmly contemporizes his subject by addressing issues of race, caste and creed through an uniform legitimization of aestheticism.
Notes Notes

National Art Treasure / Non Exportable