Traditional, Modern & Contemporary Indian Art

Traditional, Modern & Contemporary Indian Art J. SWAMINATHAN (1928 - 1994)
RELATED LOTS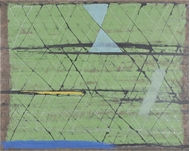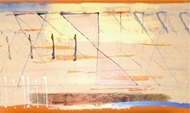 Provenance Provenance

Acquired directly from the artist
Private Collection, Maharashtra
Private Collection, south-India
Literature Literature

Swaminathan's Bird and Mountain series, in oil on canvas, are quintessential Swaminathan works, imbued with the essence of his explorations of the recurring icons of the bird, tree and mountain. The surreal quality of this 1980 canvas can be felt in the mountain faced by an inverse shadow version of itself, the bird flying alongside a spectral twin and the stairs leading up to the majestic mountain. Perhaps, one of his most dreamlike canvases, it is at once arresting as it is mystifying, giving one pause to absorb the master's creation. This work places one into a state of wonder as we are forced to think outside the conventions to which we have become so accustomed.

In the context of his painter friend's calling, Octavio Paz wrote to Swaminathan:
"The eye explodes
Fountain of signs
The serpentine undulation moves
Wave upon wave of imminent apparitions
The canvas a body
Dressed in its own naked enigma"
Notes Notes

Jagdish Swaminathan hailed from the cool climes of Shimla, moving to the capital where he attended the Delhi Polytechnic. Following this, he would go on to study graphics at the Academy of Fine Arts in Warsaw, Poland, where his potential was feted with a scholarship. It would not be amiss to say that Swaminathan possessed, even among artists, a revolutionary spirit. This can be viewed in the way he danced with conventions in his life and work. He could be thought of as painter and critic, journalist and reformer.

In 1962, Swaminathan was instrumental in forming Group 1890, which was a bold gesture in attempting to reject the influences of both the Western modernism as well as of the more Indo-centric roots of the Bengal School. This group was formed over ten years after the establishment of the well-known Indian modernist collective, The Bombay Progressives.Group 1890 comprised artists such as Ghulam Mohammed Sheikh, Jeram Patel and Ambadas Khobragade who soughtto create their own modernism, one that was more authentic and less beholden to other influences. While the group was short lived, with their only exhibition being held in 1963, their work could certainly be said to be boundary pushing and experimentally brilliant. This vein of rejecting contemporary cultural mores continued to be a thread in Swaminathan's ideals and in his works.

Swaminathan was a member of the Communist Party of India, which demonstrated a decidedly left leaning system of beliefs. A strong friendship with Octavio Paz, the Mexican Ambassador, led to the pair collaboratively releasing the art journal, Contra in 1966. The magazine had a short but polemical life, serving as a spirited critic of the prevailing cultural norms. In 1968, he was awarded the Jawaharlal Nehru Fellowship. He would also eventually begin a movement to reform and revitalize the Lalit Kala Academy in the seventies. In the 1980s he went on to establish Roopanker at the Bharat Bhavan, a centre for the arts, based in Bhopal, immortalizing him has a lifelong patron of modern Indian culture.

Being an artist, Swaminathan, as he proclaimed in the Group 1890 manifesto, seemed consumed with capturing the 'virginal state' of the world on his canvases. His tendency towards the unconventional can be felt in his art as well. Swaminathan's oeuvre can be understood in various phases, which demonstrates his experimental and path breaking nature. His art had always felt the deep impact of tribal and folk themes with his earlier works being composed of paintings and figurative drawings. As he evolved artistically, he also had a period where he played with abstraction and geometry, predominantly in the 1960s and 1970s, in a series called The Colour Geometry of Space. In his later years he returned to symbolism, when he began living in Madhya Pradesh, taking inspiration from rural life.