Significant Indian Art

Significant Indian Art VASUDEO SANTU GAITONDE (1924 - 2001)
RELATED LOTS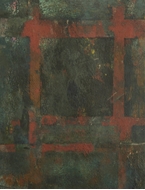 CONTACT US
Catalogue & Viewing
Lot Closed

Accounts & Shipping
Lot Closed

Details Details

This painting was done in 1980 at a crucial stage of Gaitonde's creative career. The colours here are applied in patches of flat planes with the help of a palette knife, characteristic of his works from this period as opposed to the treatment of previous years when he was using paint brushes. The luminous colour palette seeps through the layers of the canvas and spring up as it were with a life of their own. The sensation that is created with through this rhythmic play of light and shade withholds the viewer's attention.

In this painting Gaitonde manages to bring out the soul of Basholi and Jain miniature paintings in the purity of colour and pattern, sieved of all allegorical associations; just as the master miniaturist draws out the intense colour dyes from their natural sources. Gaitonde himself considered his work to be 'a play of light and colour'. Each canvas was a continuum of his work, holding within it the seed which would germinate in the next. One observes the nature of duality in his work that brings forth density alongside weightlessness and form within formlessness, turning simple objects into spiritual elements. The deliberately unhurried pace of his method of painting created masterpieces but also impacted his productivity. The artist created no more than 300 canvases in his entire lifetime, each of them jewels in their own right. He had reportedly told his friend and fellow artist Ram Kumar - "If I paint any more, I'll be repeating myself."

Gaitonde's works had been part of premiere exhibitions all over the world throughout his life-time itself and many are presently housed in the permanent collection of Museum of Modern Art in New York. In 1971 Gaitonde was felicitated with the prestigious Padma Shri Award by the Government of India. He was hailed as "the most important painter of our time" by M. F. Husain.
Literature Literature