Significant Indian Art

Significant Indian Art VASUDEO SANTU GAITONDE (1924 - 2001)
RELATED LOTS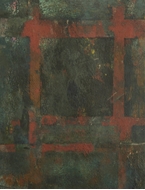 CONTACT US
Catalogue & Viewing
Lot Closed

Accounts & Shipping
Lot Closed

Provenance Provenance

PROPERTY OF DINESH & VARSHA THACKER

Acquired in 2007 by Dinesh Thacker from an auction in Paris
Literature Literature

The present work is from the much acclaimed ink on paper series by Gaitonde. Like the non-representational quality of his canvases, these works on paper too remain as undecipherable coded forms of hieroglyphs. The forms borrow from various vernacular scripts but ultimately congregate into a unique language of calligraphic wonder. Gaitonde has shaped the paper too, by carefully burning the edges, to give it the form like those of ancient hieroglyphic tablets. To draw a visual comparison a cuneiform tablet from Mesopotamia is presented here. Gaitonde's immense knowledge of history and years of meditative scholarly practice enabled him to create this unusual body of work. Just like his canvases, it confirmed to no particular form but drew inspiration from all around.

In a conversation with artist S.G.Vasudev, Gaitonde expressed himself aptly when he said - "My entire outlook changed when I came to know that the Chinese have no epics to boast of for the single reason that an epic covers a long period of time and its basically wrong to say, for instance that any age can be heroic. Any abstract feeling can be valid for a single moment. One is not in love eternally, even if the feeling is there. The ecstasy of the moment cannot be stretched over a long period".

This 'ecstasy of a moment' is what he captured with the sweeping brush strokes of ink, thereby exemplifying the very concept of calligraphy that is - an art of giving form to signs in an expressive, harmonious, and skillful manner.