Modern & Contemporary Indian Art

Modern & Contemporary Indian Art S.H. RAZA (1922 - 2016)
RELATED LOTS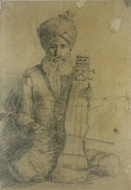 CONTACT US
Catalogue & Viewing
Lot Closed

Accounts & Shipping
Lot Closed

Provenance Provenance

Consigned by a Nagpur based collector who acquired it from the family of Late Prof Athwale of Nagpur College of Art along with series of letters exchanged between Raza and his Guruji (teacher) Prof Athwale between 1968 to 1982
Literature Literature

The significance of this portrait lies in not only being one of the earliest drawings from the artistic life of Raza but also of the
selection of the subject, that gives an insight into the man that Raza is. Hazrat Tajuddin Baba of Nagpur was a well revered saint of
the 19th century. Raza has done great justice in the portrayal of the disposition of a saintly person. The far reaching eyes even in a profile are very well rendered .The position of hands and firmly rooted feet speak volumes about the subject. The lines are sure and execution very sensitively rendered. This portrait study gives an insight into the understanding of the subject by the artist.

Both the works mentioned above hold their importance in the fact that neither of them belong to the genres of Expressionism and Abstractionism that Raza is known for. He totally abandoned this style in his artistic career.