Significant Indian Paintings

Significant Indian Paintings S.H. RAZA (1922 - 2016)
Lot: 58
Lot Closed
S.H. RAZA (1922 - 2016)

ASN0007 Auction Type: Live Floor
Portrait of Sarangi Player Ustad Bundu Khan
(with the musical instrument 'vadak')
Pencil sketch on paper
Signed S.H. Raza top right and stamped 'Nagpur School of Art Society', Nagpur on reverse; circa 1940s
Dimension: 32 x 46 cm
€4950 - €5775
RELATED LOTS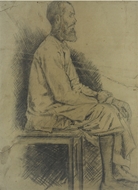 CONTACT US
Catalogue & Viewing
Lot Closed

Accounts & Shipping
Lot Closed

Details Details

Ustad Bundu Khan (1880–1955) was born in Delhi in a family of musicians. He received his early training in sarangi from his father Ali Jan Khan and later from his uncle Mamman Khan. His complete mastery over his delicate and difficult instrument not only placed him on the top rung of the subcontinents sarangi players but also one of the most proficient Hindustani instrumentalists of the 20th century. He was awarded the Pride of Performance by the Government of Pakistan in 1985. His sons Umrao Bundu Khan and Buland Khan have continued his musical tradition.

The Portrait is of significance as it is one of the early works of Raza's artistic days. Raza's attraction towards Ragas and Ragamala, was becoming obvious from his early life explaining his selection of the subject for portrait study. Ustad Bundu Khan was one of the most outstanding Sarangi players of the 20th century. The significance of the work also lies in the fact that it is a kind of precursor to the thought flow of Raza in his later career. It would perhaps not be wrong to say that this portrait was in a way a sign of things to come.
Provenance Provenance

Acquired from the family of Late Prof. Athwale of Nagpur School of Art
Private Collection, Nagpur
Literature Literature

Born in 1922 in Madhya Pradesh, Raza studied painting, initially, at Nagpur School of Arts before joining JJ School of Art. Being deeply rooted to his soil of origin, he worked on developing a modern language of Indian art. He co-founded the 'Progressive Artists' group along with Francis Newton Souza, M.F. Husain and Tyeb Mehta, to be joined later by S.K.Bakre, Akbar Padamsee and Tyeb Mehta. He held a few exhibitions along with his group before joining L'Ecole Nationale des Beaux Arts, Paris, in 1950.

He settled down in France and married the French artist, Janine Mongillat. His settling in France could not severe his roots from his birth place, hence he started visiting India regularly, particularly after the 1970's. His works carried the fervor and spirit of India which he expressed in his later series "Bindu". His work changed from expressionist landscape to abstraction as if wanting to share his belief in the metaphysical form, that is above the materialism that hinders the higher growth of an individual.

Raza showed keen interest in the people and culture of his native land, right from the beginning. He was attracted to the profundity of spirit, after having personally established control over his wavering mind, at a young age. He was fascinated by the Ragas which according to its Sanskrit root 'ranjh' means, to colour the mind. Raga and Ragamala played an important role in his later works. As he said – What is Raga? It is a certain melody, which colours the heart of man. Colour in Indian art is ecstasy.

Though his family moved to Pakistan after partition, he never broke his ties with the place that he was born in. He visits India regularly and is never tired of imbibing the essence of India.