Traditional, Modern & Contemporary Indian Art

Traditional, Modern & Contemporary Indian Art N S BENDRE (1910 - 1992)
RELATED LOTS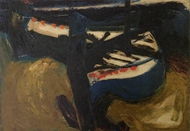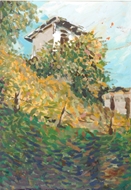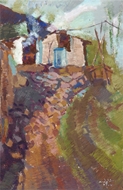 Provenance Provenance

Presented by S. Kazim Ali Khan. On the momentous occasion of the appointment of Janab M. Fayazuddin Sahib as the Director of Town Planning.
Acquired by a Gentleman, Hyderabad.
Private Collection, Bengaluru since the 1990s.
Literature Literature

Born in Indore in 1910, this city served as the capital of the princely state of Indore. As it happened, Bendre would go on to have significant contact with noblemen during his lifetime. While he was not entirely sure that art was his path, he decided to explore it as a profession when, on obtaining the Government art diploma in 1933 in Bombay, his works were a grand success at the Bombay Art Society's Annual Exhibition. He was named President of the Art Society of India for one year.

Bendre was possessed of a vagabond spirit. He toured South India, lived in Mumbai for a spell, then moved to Kashmir and returned to Mumbai. When he travelled, he visited art schools and private institutions to learn the techniques being taught. He also stayed with artists D.P. Roy Choudhry, Manishi Dey, Ishwar Dass to learn from their craft and would go on to do the same at the eminent art school, Shantiniketan in Bengal. Eventually he would venture abroad, to the USA, United Kingdom and travel to Europe and even Singapore to learn the prevailing art techniques with a youthful vigour to study and absorb as much as he could.

Bendre's oeuvre is marked by this same thirst to explore the new, which is the quality that keeps each work fresh and original. He was quite affected on seeing Amrita Sher-Gil's impressionistic works which he saw for the first time in Mumbai, which could perhaps explain his own predilection towards impressionism.

"He acquired a versatility in different styles and techniques in painting and mastered them. He combined in his art the European Academic traditions, robustness of Indian miniatures, the romanticism of the Bengal School and the simplicity of form and contrasting colours of Cezanne and Gauguin. His versatility took him to figurative painting and compositions following the cubist and impressionistic style. His figures look alive with flesh and blood and look serene and self-assured" - Kajal Kanjilal (History of Indian Art, pg 105, Saraswati House, 2010).

In the 1950s Bendre entered a new era of creativity."Bendre painted the extensive series of one figure studies in gouache technique, depicting different ethnic Indian types in picturesque costumes which lend themselves to variegated colour juxtapositions: The old bearded man from Rajasthan, the large turbaned and dhoti-clad men from Kathiawad, the youthful vivacious village girl etc., generally sitting in informal, natural postures. These are again like twentieth century versions of the company school 'firka' types of the nineteenth century British colonial India. Many of these individual figures were painted without treating the space around them or suggesting the appropriate environment. His researches in colour took a new turn around 1958. At the same time, he gave the earlier preoccupation with Indian subject matter. He began experiments with drip paint, pouring thin liquid colours on canvas surface, allowing them to spread liquid colours on canvas surface, allowing them to spread out and merge at selected places. He was thus in his own way exemplary of what is called the artistic temperament, without taking recourse to any crazy gimmicks"- Ratan Parimoo (Published by the Lalit Kala Akademi 3, 7th March 1991).

Here, the painting, dated 1958, is executed in gouache in an impressionistic, mosaic style that perhaps led to Bendre's later experimentation with pointillism as can be seen during the seventies and eighties. The play of light and shadow in this gouache work and the care with which the subject's expression has been etched upon his face is a wonder of artistic prowess. Every fold and drape of his garments is brought to vivid life as is his magnificent beard and the jaali work in the background, a testament to the master's towering talent.
Notes Notes

The origin of this work, as inscribed on a strip of paper above the signature reads, Presented by S. Kazim Ali Khan. On the momentous occasion of the appointment of Janab M. Fayazuddin Sahib as the Director of Town Planning. As noted, it was presented to the first town planner of India, Padmashri Mohammed Fayazuddin of Hyderabad whose family is said to be descended from the second Khalifa of Islam.

Mohammed Fayazuddin was born in 1903 and lived an illustrious life until he died in 1977. He was a graduate in architectural studies from the Sir J.J. College of Architecture in Mumbai. He would go on to win an open competition by the Hyderabad Government and obtain a scholarship to further his architectural studies at London's Architectural Association School of Architecture. Subsequently, he would be fortunate enough to be able to work alongside the chief architect and city planner of London County Council, Dr. Leslie C. Martin. Some of his peers were Maxwell Fry and Jane Drew who were on the design team of Le Corbusier as he was undertaking his life's work of designing Chandigarh.

However, Mohammed Fayazuddin's destiny would soon bring him back to his native land. He would return to Hyderabad Deccan in 1934. Here, he would act as a town planner in the Nizam's government in the Local Fund department. He would work under Ahmed Mirza, then the chief engineer.

He was a true pioneer of town planning in India. In 1942, he would finish the Regional, Master Planning and Town Planning for Greater Hyderabad; this was an unprecedented feat in the country. These laurels would lead him to be invited to work upon the Regional, Master and City Plans for other cities namely, Jamshedpur, Udaipur, Bhopal and Bikaner. His star would only grow brighter; between 1952 and 1960, he was tasked with setting up the Institute of Town Planners, India, the first such body in the country, of which he was a founding member, then the first president and the Director of Town Planning Government of Andhra Pradesh. He held the presidential chair from 1951-54 and again in 1958. It could be that to mark his tremendous contributions to India's city planning, that this painting was gifted to him.