Significant Indian Art

Significant Indian Art MAQBOOL FIDA HUSAIN (1915 - 2011)
RELATED LOTS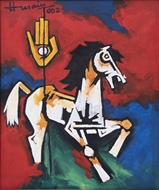 CONTACT US
Catalogue & Viewing
Lot Closed

Accounts & Shipping
Lot Closed

Literature Literature

"The people here look so deeply at tradition…. you say tradition is the past but in India it is living… I like to go to the epics because there I find the roots… I look to the roots to discover what form the symbols have… I like to relate all these symbols and images to the present situation… to make these symbols come alive." - M F Husain

The Karmayogi in Husain sought inspiration from all the religions of the world – Jainism, Islam, Hinduism, Budhism, Sikhism, Christianity, Judaism, Zoroastrianism and Taoism but ultimately took refuge in Humanism. The Vedas, epics and religious scriptures revealed to him the story of mankind – its indomitable spirit to surface against the tides of all improbabilities. More than blind belief, these to him were the discerning points of humanitarian discourse. They spoke of the deep rooted psyche of a race to whom tradition was a continuous identity that defined every aspect of their lives and connected them to the elements of nature.

In this Untitled painting Husain depicts the 'eye'. The eye that connects us to the world by enabling us to search incessantly. Like an arrow it shoots around, at times listlessly and at times with the precise focus of an adept archer. It is also the eye that leads us to the path of wisdom and knowledge. Here Husain has painted a silhouetted portrait with eyes wide open, reminiscent of the alert figures of Jain miniature paintings. The still, focussed eye of the archer or Dhanurvid is sliced through with the shadow of the arrow that he holds high up, targeting the fish hanging on top. In lieu of the silhouetted form Husain dexterously painted the arrow's shadow white in colour. It is also interesting to note the pictorial framing and bright colours he has employed in creating this captivating image that evokes the characteristic tonalities and special arrangements prominently visible in Basholi and Jain miniature painting traditions. The image makes obvious reference to the epic story of Arjuna, the greatest archer in the world, shooting at the fish's eye by looking at its reflection in the water. Hence we have taken the the liberty of titling this painting – 'Arjuna Dhanurvid'.