Traditional, Modern & Contemporary Indian Art

Traditional, Modern & Contemporary Indian Art M F HUSAIN (1915 - 2011)
RELATED LOTS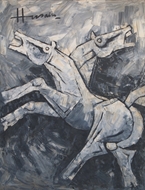 Provenance Provenance

Acquired directly from the artist
Exhibited at a gallery in New York
Private Collection
Literature Literature

"Horses had become Husain's personal metaphor for speed, beauty & grace".

Religion was no bar for M. F Husain when it came to finding inspiration for his work. He was deeply devoted to his own, however he also greatly respected and admired the Hindu beliefs; multiple faces from the Hindu pantheon peopled his works from Saraswati to Shiva and Parvati, characters from the epics Mahabharata and Ramayana and even subjects from the Puranas. His fertile mind was sparked by a variety of different topics from numerous cultures and parts of the world.

Husain's Hindu iconography permeates his oeuvre. Here the Horse, distinctively modernist in its execution, depicted with all the Husain hallmarks, features a trishul like palm that seems to arise from its back. This work in acrylic dated 2002, is reminiscent of Lightning, another Husain work which is filled with political allusions. The trishul itself is sometimes present in his works, chiefly in his depictions of Shiva and Durga, which typically denote a rawness and ferocity, which could be applied here, as well.