Traditional, Modern & Contemporary Indian Art

Traditional, Modern & Contemporary Indian Art M F HUSAIN (1915 - 2011)
RELATED LOTS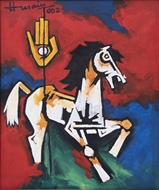 Provenance Provenance

From the collection of a family in Hyderabad, that patronized Husain with great affection
Literature Literature

"My horses, like lightning, cut across many horizons. Seldom are their hooves shown. They hop around the spaces. From the battlefield of Karbala to Bankura terracotta (horses), from the Chinese Tse pei Hung horse to the St. Marco horse, from the ornate armoured 'Duldul' to the challenging white of Ashwamedh...the cavalcade of my horses is multi-dimensional."
- M.F. Husain (Pradeep Chandra, M.F. Husain - A Pictorial Tribute, pg 117, Niyogi Books, 2011)

M F Husain had a tremendous eye for beauty and sensuousness. This aesthetic pervades his canvases, thoroughly imbuing his subjects with vitality and a sense of passion. While this is most apparent in his depictions of female beauty, his horses are also a fine example of the same. Husain bestows them with a raw sensuousness. In every sense, they represent freedom, possibility and the robustness of life.

This acrylic on canvas is a study in dynamism. The beasts are lent a sense of absolute power, inspiring a quiet and certain awe in one's mind. Their heads are thrown back, their mouths open in a silent neigh. The grey of the canvas creates a starkness that causes the subjects to seem even more majestic and larger than life. Executed at the peak of his obsession with painting horses, the heavy impasto adds to the ferocity.