Fine Art, Design & Lifestyle

Fine Art, Design & Lifestyle JAMINI ROY (1887 - 1972)
RELATED LOTS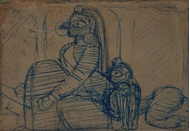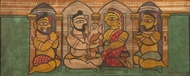 CONTACT US
Catalogue & Viewing
Lot Closed

Accounts & Shipping
Lot Closed

Provenance Provenance

Acquired directly from the artist by his close associate
Private Collection, Kolkata
Bid & Hammer, 30th November 2010, lot 61
Literature Literature

In 1929, Mukul Dey sponsored an exhibition of paintings by Jamini Roy in Calcutta. The then Statesman editor Sir Alfred Watson said: "....Those who study the various pictures will be able to trace the development of the mind of an artist constantly seeking his own mode of expression. His earlier work done under purely Western influence and consisting largely of small copies of larger works must be regarded as the exercises of one learning to use the tools of his craft competently and never quite at ease with his models. From this phase we see him gradually breaking away to a style of his own.

Jamini Roy was born in 1887 in a village called Beliatore in the District of Bankura in Bengal, to a middle-class family of land-owners. At sixteen he joined the Government School of Art in Calcutta. Here he learnt to paint in the prevailing academic tradition drawing classical nudes and painting in oils. He received his Diploma in Fine Art in 1908. Realizing his need to draw inspiration from his own culture and not from Western traditions, he sought his muse within the living folk and tribal arts around him. Soon the bold sweeping brush-strokes of the Kalighat Pat captured his interest and fascination. Immediately thereafter he moved away from his earlier impressionist landscapes and portraits and between 1921 and 1924 began his first period of experimentation with the Santhal dancers. This marked an important phase in his career. It was his starting point. Thereafter his technique as well as subject matter was influenced by the traditional art of Bengal.

His new style was a reaction against the Bengal School and Western tradition. His underlying quest was threefold firstly to capture the essence of simplicity embodied in the life of the folk people, then to make art accessible to a wider section of people and finally to give Indian art its own identity. In 1934, he received a Viceroy's gold medal in an all India exhibition and in 1954 was awarded the Padma Bhushan. Jamini Roy died in 1972.

The Standing Nude reflects Jamini Roy's engagement with European Realism. This Italian fresco style work is a classic example of that period in his career when he explored the academic style. Treated in flat pastel tones the miniature-style statuesque nude poised in the archway reflecting a more monumental quality is perhaps an exclusive and unique work. For a short span in his career he worked in this style and may not be remembered for the portraits he did in oil on canvas, largely done to meet his cost of living in Calcutta. While Jamini Roy is known to have never dated his work leading to much despair among historians, this exceptional work can undoubtedly pre- date the period when he touched the zenith of his signature style. There is strong chronological logic of it being first experimented with in the early twenties, and then abandoned for not being relevant to the artist's quest. What does not escape attention is the sophistication in the figuration. It unquestionably reflects the monumentality that he continued to bring in his figuration recalling the quality of classical sculptures.
Notes Notes

National Art Treasure. Non-Exportable