Traditional, Modern & Contemporary Indian Art

Traditional, Modern & Contemporary Indian Art JAMINI ROY (1887 - 1972)
RELATED LOTS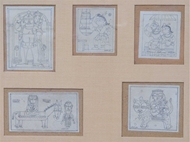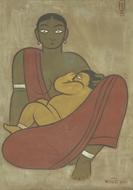 Provenance Provenance

From the family collection of an artist, author & officer who served in the Karnataka Lalitkala Academy & various other cultural departments for many years.
Literature Literature

This drawing in blue ink on paper depicts the hallmarks of the Jamini Roy aesthetic ever-present in the exaggerated eyes, in the modern flourish applied to the folk tradition. In this depiction of Mother & Child one can see the emergence of Jamini Roy's fascination for the familial theme and one can also see how perhaps this could go on to evolve into the kind of more full-bodied works on the same subject that have made regular appearances in his body of work.
Notes Notes
Condition Notes

Crack on the top-side of the paper board.