Significant Indian Paintings

Significant Indian Paintings GAURI BHANJA (1907 - 1998)
RELATED LOTS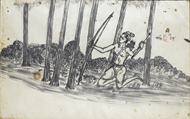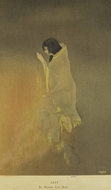 CONTACT US
Catalogue & Viewing
Lot Closed

Accounts & Shipping
Lot Closed

Details Details

Gauri Bhanja, the illustrious daughter of Nandalal Bose, was born in the year 1907 at her father's ancestral home at Kharagpur in the Monghyr District of eastern Bihar, much to the delight of her parents. It was an eventful year for Nandalal as he received international praise and exposure for the first time. Fondly he named her 'Gauri' after the painting he was then working on. With her father's blessing and guidance Gauri Devi soon mastered the skills of an accomplished artist. She became the first significant woman artist who trained in all media of art and was successful enough to teach others.
Gauri Devi ardently followed her father's thematic and representative styles that were inspired from the visual legacies of Indian classical art of the Ajanta murals and the indigenous miniature painting traditions. Painting in the method of wash tempera was the norm then in both miniature formats as well as in scrolls. Gauri Devi also assisted her father along with fellow artists Provash Sen and Satyajit Ray in painting the murals of China Bhavan, which was formally inaugurated in 1937 by Rabindranath Tagore.
In 1927 Gauri Devi married Santosh Kumar Bhanja, a lawyer by profession. Soon after this they left for Madras where she found her true vocation as an art tutor while Santosh Kumar learnt enameling, silver work and other crafts in the Madras School of Arts and Crafts. In the later phase of her life Gauri Devi served as a teacher at Kala Bhavan in true tribute to her father's creative genius. She passed away in 1998 at the age of ninety one.
Literature Literature

The present work 'Rudra-Shiva / Shiva Dancing' elaborates her competence as a skilled artist as well as an erudite scholar with in-depth knowledge on iconographical and historical subjects. She represents in this painting Shiva's iconic form as Rudra (the "Fierce God"). The etymology of the theonym Rudra has many connotations like 'The Howler' developing from the word 'rud' which means to cry or howl. Another alternative interpretation is 'The Brilliant Red' derived from the same word 'rud' which also stands for the colour red. According to Vedic literature Rudra and Agni share an intrinsic relation and one is often synonymous to the identity of the other, as is confirmed in the Nirukta texts. In Shatarudra, some epithets of Rudra, such as Sasipañjara implies "Of golden red hue as of flame" while Tivasmati denotes "Flaming bright" suggestive of the fusing of two deities. According to the noted Indologist Stella Kramrisch:

"The fire myth of Rudra-Shiva plays on the whole gamut of fire, valuing all its potentialities and phases, from conflagration to illumination."

It is a known fact that Stella Kramrisch was invited by Rabindranath Tagore to join Kala Bhavan as a teacher of Art History in 1921. Therefore it is quite natural for the students like Gauri Devi to be inspired by her profound knowledge of Indian Classical Iconography.

Gauri Devi's insightful rendering of Rudra Shiva replete in its iconographic and spiritual connotation therefore astounds us with her expertise. Shiva as Rudra is seen to be immersed in the act of a Tandava surrounded by the three natural elements of Jal (water), Agni (Fire) and Vayu (Air). At his feet are the spurting water bubbles followed on the next level by whorls of fire and smoke. His matted hair crowned by the crescent moon bounces around him along with his 'damaru' and horn. A halo surrounds his head from where Ganga sprints ceaselessly as he emanates raw energy from his third eye. Scantily garbed as an ascetic in tiger-skin, a snake garlanding his neck and a pair of rudraksh beads around his wrists, he embellishes himself with vibhuti or sacred ash. In his left hand he holds the trident and with the right one he forms the Karana Mudra– the gesture with which demons are expelled. The Brahmarishi (accomplished ascetic) adorns himself in tiger skin as a symbol to his conquest of lust since tiger represents lust. The serpent that embraces him signifies wisdom and eternity and the trident represents Satva, Raja and Tamas - the three Gunas with which he rules the world. The painting overall is dominated by a red hue in accordance to the Rudra form of Shiva.

A strong influence of Tibetan iconography is present in the depiction of the three elements along with elements of Ajanta and varied miniature painting traditions.