Significant Indian Paintings

Significant Indian Paintings NANDALAL BOSE (1882 - 1966)
RELATED LOTS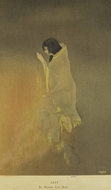 CONTACT US
Catalogue & Viewing
Lot Closed

Accounts & Shipping
Lot Closed

Literature Literature

"You maker of pictures A ceaseless traveler among men and things Rounding them up in your net of vision And bringing them out in lines"
– Rabindranath Tagore

Born in the obscure town of Haveli Kharagpur in eastern Bihar, Nandalal grew up in an atmosphere akin to a picturesque Wordsworthian lake district, surrounded by dense forests with trees like mahua, sal and teak growing in profusion and a sanctuary for wild animals like the leopard, tiger, elephant and bear. All his life Nandalal treasured these experiences of his growing up days which he recreated through a series of drawings. The present lot is one such masterpiece wherein the artist first employs a fine nib quill pen dipped in ink to delineate the contours of the protagonist in lithe strokes and punctuates the trees with textured lines. He then softens these lines in deft brush strokes of diluted watery ink. This in turn adds volume to the forms in a curious interplay of light and shade quite similar to the Kalighat Pats.

In 1916 Nandalal met Arai Kampo, a master Japanese calligraphist who came to India at the behest of Rabindranath. It was the poet's conviction that when the art of any country grew stale and repetitious, thereby losing its powers and wealth of expression, the impact of an alien culture helped to awaken its native vitality. He was indeed proved right by the camaraderie and mutual appreciation of skills shared by Nandalal and Arai. Nandalal was deeply impressed by Arai's calligraphic mastery while the latter was mesmerized by the other's range of rich colour palette. Inspired by his friend, Nandalal embarked upon an intense training into the principles of calligraphy. Several of his works from this period bear testimony to his mastery.

Work with brush and Chinese ink involves a complex constellation of sensibilities, both physical and psychological. The artist is expected to observe his subject so that he knows it as clearly as his own hand. After innumerable detailed studies the creator allows his mind the freedom of expression under the watchful eye of the observed truth. At the right moment, he wields his brush, holds his breath and in a flash of awareness draws his subject in few adroit strokes. The result appears as if in a divine act of destiny and explains the reason why the great Japanese calligraphers immersed themselves in Zen philosophy.

Nandalal's work from this point gradually turned to these new and rich quarries of expression. The vitality of line, its inexorable infallible movement, possessing the life breath or chi captivated him. His work slowly changed its centre of gravity from a thematic content revolving around illustrative expression of mythology to the variant dynamics of form itself. Thereafter, aspects of form, colour and line became his primary concern in which 'the divine line' played a dominant role.
Notes Notes

National Art Treasure / Non Exportable