Modern & Contemporary Indian Paintings

Modern & Contemporary Indian Paintings G. R. SANTOSH (1929 - 1997)
RELATED LOTS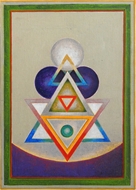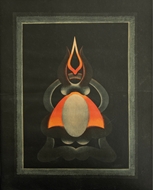 CONTACT US
Catalogue & Viewing
Lot Closed

Accounts & Shipping
Lot Closed

Provenance Provenance
Literature Literature

''Painting to me is like poetry - timeless and universal"

The famous painter Santosh is known for his semi- abstract 'tantric' images which are a blend of geometric abstraction and Kashmir 'shaivite' philosophy. The combination of the strict geometry of shapes with forms resembling nature or females has become a trademark of Santosh. He tries to create a pure and ordered world through his perfected shapes and organized compositions. The sexual and spiritual is blend together in a body which talks beyond material presence.

His position in the abstract genre is very significant because the infusion of the 'traditionalist' idea to the 'spiritual', personifies the search for an Indian identity. Without being swayed by the Greenbergian abstraction, he has given a 'traditionalist' face to the abstract art practiced in India.