Traditional, Modern & Contemporary Indian Art

Traditional, Modern & Contemporary Indian Art G R SANTOSH (1929 - 1997)
RELATED LOTS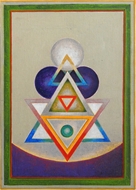 Provenance Provenance

Received as a wedding gift in March 1976 by the current owner, from a business associate in Jammu & Kashmir.
Literature Literature

One of the most well-known figures of the neo-tantra movement in the country, G R Santosh's works are crucial in these times of eroding culture and spirituality. Santosh was a native of the richly diverse land of Kashmir which is possibly why his works are so steeped in a sense of spirituality. The Shavaite school of thought that was prevalent in Kashmir seeped into his work. Santosh attempts to speak of sexuality and spirituality through his attention to form and shapes, which often take inspiration from the female body and from the wonders of nature.

This watercolour on paper, executed circa 1972, reverberates with a sense of spirituality, the flame radiating a light out into the surrounding darkness. It is a work of genius from a master of abstraction, silent yet conveying much, the obvious iconography of Shiva very apparent in the shapes that seem to imply the Lord's Bull Vahana, Nandi, the Trident or Trishul, the third eye and it goes on. Perhaps a picture speaks a thousand words, but this painting seems to convey the length and breadth of Shavaite philosophy, an absolute masterstroke of genius.

"The art of G R Santosh"explores the spiritual basis of man 'Being'. His artistic expression through triangles, squares, cubes and hexagon and other Tantrik symbols are used to explain the origin of the cosmos and Shakti (the power of the female) as the cause of the origin." - Kajal Kanjilal (History of Indian Art, pg 107 Saraswati House, 2010).
Condition Notes

Conserved & restored at INTACH