Modern & Contemporary Indian Art II

Modern & Contemporary Indian Art II B. Vithal (1935 - 1992)
RELATED LOTS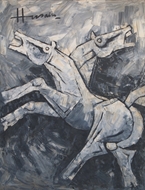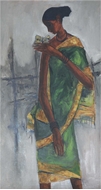 CONTACT US
Catalogue & Viewing
Lot Closed

Accounts & Shipping
Lot Closed

Literature Literature

B. Vithal is well known both for his paintings and his sculptures. He trained at the Sir. J. J. School of Art, Bombay where intensive study of the human form through live-model sketching and the presence of classical Greek and Roman sculpture casts on the campus made a lasting impression on his future style and work. Throughout his life he worked in the figurative mode and is recognized for capturing in sculpture, drawing and painting, raring bulls and horses, nude figures and musicians.


B. Vithal and his life partner B. Prabha, later a celebrated artist herself, were both associated in the early stages of their careers with the Bhulabhai Institute in Bombay, a place that was a hub of artistic and musical activity. It was here that they developed close associations with artists like M.F. Husain, V. Gaitonde, Jatin Das and Tyeb Mehta.

Vithal accomplished, with great comfort, the constant switch between three dimensional modeling and a two dimensional surface and was honoured by the Bombay Art Society Award for three consecutive years from 1957-59. He also received the Maharashtra State Awards from 1956-59. He intuitively brought out the best of both mediums, sometimes using the linear quality of a drawing in the sculpted contours of a bull, while at other times bringing about a solid voluminous effect in forms painted on canvas. This is apparent in the untitled oil on canvas presented here. The horse, painted in bold brushwork, retains all the focus of the viewer while the background remains ambiguous, enhancing the form's solidity. Vithal enjoyed painting large canvases and put a lot of energy into his artworks, always experimenting with unusual textures and colours.