VARSHA & DINESH THACKER COLLECTION
Friday, June 27, 2014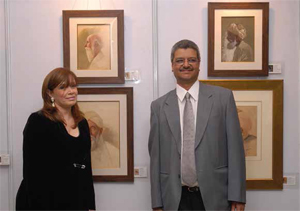 "The theory behind our collection was that art was not bought with idea of decorating our walls or for any kind of commercial purpose or interest, but to help & encourage the artist to survive. Art is a lifelong passion imbibed from our parents who trained us to appreciate the artists' paintings with a view of their struggle to survive & the devotion put by the artists under very difficult circumstances that prevailed pre-independence, not like today's page3 social cocktail parties. The result was that we learnt to appreciate any painting… good, bad, or ugly & not just big names & important works. Even unsigned works of artists are judged by us with equal importance as published, famous & fabulous works of an artist. The paintings acquired by us were always with a view of historical & significant milestones in the history of Indian contemporary Art"
- VARSHA THACKER & DINESH THACKER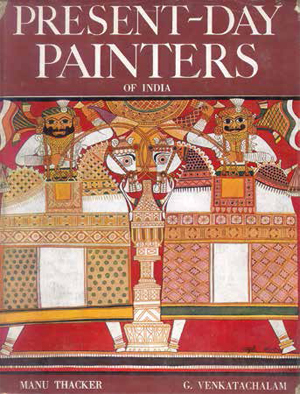 Cover page of the book published by Manu Thacker, Dinesh & Varsha's father, in 1950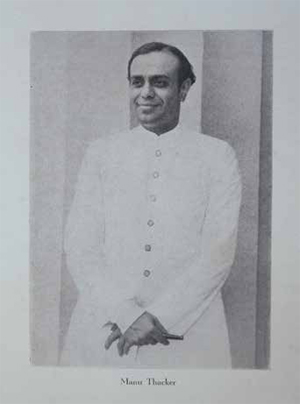 Manu Thacker, 1949, image reproduced from the foreword of the book Present-Day Painters of India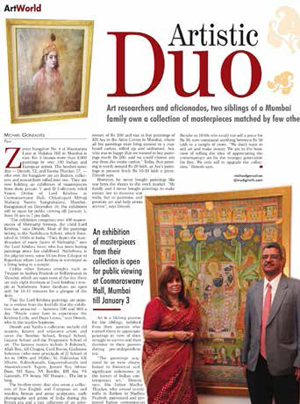 The Financial Chronicle, 1st January 2010

The brother-sister duo
of Dinesh Thacker & Varsha Thacker can perhaps best be described with a term…'Reclusive Collectors'. Very few people are aware of their passion for thoroughbred horses and a vast & exhaustive collection of modern & contemporary Indian art, Indian film memorabilia, English & European art, sculptures, art reference materials, books, magazines & an extensive library….and also of their legacy.
Their father, Manu Thacker and his family were promoting Indian Contemporary Art since 1940s and were very active in the Bombay Art Society as well as the Bombay Art Circle. It was to Manu Thacker, Bombay owed its earlier fillip in art activities and their revitalization in all directions.
This interest in art and artists was not remote and academical, but was intensely practical, and his services were as genuine and sincere as they were substantial in encouraging & promoting Indian artists. He had close connections with all famous and upcoming artists of the era, and the family also published many books on art including the famous Contemporary Indian Paintings by Thacker & G Venkatachalam. Varsha & Dinesh's mother Manjula Thacker nee Goculdas was also from a family that patronized and promoted Indian artists since 1900s. Her grandmother, Mathuradas Goculdas and her aunt Sumati Morarji were big patrons & collectors of art. Architect, Interior Designer and Artist…. Varsha Thacker is indeed multifaceted. She had been exhibiting her works during the 70s & 80s and has won numerous prizes in painting. She studied under great masters like K H Ara, SL & GS Haldankar and has done art research & appreciation courses abroad. Earlier, she had worked with Patel Batliwala & Associates for few years & also has designed many prestigious projects. She has a deep interest in horse riding and racing and was the First Lady Board of Appeal Member & Committee Member at Royal Western India Turf Club in the history of Indian Racing.
Like his sister, Dinesh is passionate about horse riding & racing. They are reputed owners & breeders of many race horses. Apart from assisting his father in the textile business he inherited his passion for art.
Due to their parents absorbing passion for art, Varsha & Dinesh got exposed to it from their childhood. "As children we were made to attend many art classes at the Jehangir Art Gallery, Haldankar's studio at French Bridge, Mumbai & The Bhulabhai Desai Institue etc.., by our parents in order to understand & inspire us to grasp the significance of art. We as children in 1960s have spent many hours & days in the company of G. Venkatachalam who was fondly called by my parents as 'Venka'. We remember spending time at Venka's house at Matunga, Mumbai in the midst of piles & piles of paintings & art reference books along with various guests connected with art including the artists themselves. We were Cover page of the book published by Manu Thacker, Dinesh & Varsha's father, in 1950 Manu Thacker, 1949, image reproduced from the foreword of the book Present-Day Painters of India regular visitors to all the art galleries which existed in the 1970s, The Artists Centre, The Jehangir Art Gallery, The Prince of Wales Museum etc. Both of us have spent hours at MV Dhurandhar's house at Khar and numerous other artists homes," remembers Dinesh Thacker.
Trained by their parents to acquire paintings with a solid connection to the foundation of Indian contemporary art, Varsha & Dinesh's collection of masters and other eminent artists and unknown artists is free from pomposity & technicalities but is based on a lifelong study, at first hand, of the art of India by Indian & English artists and also of English & European Art. "Since the family was totally dedicated to promoting Indian contemporary art, we acquired a vast collection of paintings done by various artists mostly pre-independence as well as postindependence. Most of the collections of our paintings which have been acquired recently as well as in the past have been purchased directly from the artists or their family members & colleagues. There was never a differentiation or a distinction made between known, lesser known and unknowns artists. Even if the painting was unfinished or unsigned, it was given equal importance as much as the complete & finished paintings. We have been doing a thorough research in this field and have regularly been sourcing paintings which are still available with the friends, families and colleagues of those artists who were well-known to our parents alongside the paintings we have in our collection," says Dinesh.
There was a time when artists used to give away their paintings for meager amounts, a tube of paint, a paint brush, a decent meal or even a cup of coffee… reminiscing an incident from 1970 Dinesh narrates: "Once my sister and I had collected pocket money of Rs 200 and ran to buy paintings of KH Ara from the Artist Centre in Mumbai, where all his paintings were lying around in a cupboard carton, rolled up and unframed. Ara, who was so happy that we wanted to buy paintings worth Rs 200, said we could have our choice from the whole carton. Then onwards he used to come to our house in Malabar Hill and leave paintings for Rs 100 or Rs 200 or even for a tube of paint or brush."
Dinesh Thacker and Varsha Thacker decided early on …their life's work…'Art Collection' and pursued it undeviatingly ever since and have come up with a collection which is any researcher's delight….it is based on a broad acquaintance with the philosophical spirit of which Indian Art is the outward expression.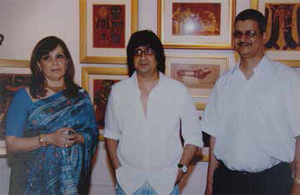 Varsha & Dinesh had displayed, from their collection some of the rare paintings of Bengali artists from different schools of art... Seen here with art historian Nanak Ganguly with some of the works in background in December 2009 (image reproduced from Elite Collectors, p. 219)