Modern & Contemporary Indian Paintings

Modern & Contemporary Indian Paintings THOTA VAIKUNTAM (B. 1942)
RELATED LOTS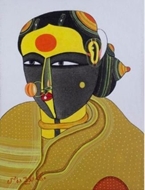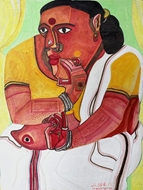 CONTACT US
Catalogue & Viewing
Lot Closed

Accounts & Shipping
Lot Closed

Literature Literature

Thota Vaikuntam received a fellowship to study painting and print making at Maharj Sayajirao University, Baroda, under K. G. Subramanyan. As an artist who has carved a niche for himself in depicting the rural Telangana women from Andhra, Vaikuntam has stuck to depicting these women for a long period of time.

Vaikunatam captures the unique characteristics of these village folk, with their bright costumes, ornaments and characteristic rustic features. He focuses on the expressive distortion of the figures, making them robust and earthy. He eliminates the backgrounds and places them in the foreground of coloured backgrounds. By depicting these native types he asserts their local identity on the national scene.