THE LEGACY OF RADHA DEVI GOENKA
Friday, June 27, 2014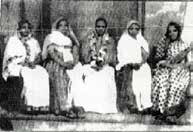 Picture taken on 2-10-1953, Mahatma Gandhi's Birth Anniversary, on the occasion of the establishment of the Sarvodaya Mahila Mandal (Chairperson Radha Devi Goenka is in the centre)
Born on 8th January 1903, Radha Devi Goenka was a renowned social worker and freedom fighter and along with her husband Kishan Lal Goenka was recognized as a leading citizen of the city of Akola (Maharashtra) in the 1950s. The couple supported and contributed to various socio-economic and cultural causes. Radha Devi Goenka had at one time also contemplated the Governorship of the Central Provinces to further her contribution to these causes, with an emphasis on the empowerment of women.
Radha Devi Goenka got her first glimpse of HH Shri Bhola Nathji (1902 -1992), the Founder of the World Prayer Day for Peace and Unity in the world, on 29th December 1950 at Akola (Maharashtra) railway station were she had gone to receive him along with her husband. She became greatly interested in Shri Nathji's philosophy on 'Prem-Bhakti' (ie love and devotion towards God) and started taking keen interest in religion and philanthropy after regular interactions with him.
On 15th August 1953, she formed a charitable organization named Rajasthani Mahila Mandal, Chandrapur. This 'sanshta' was formed with four members with Radha Devi Goenka as the Chairperson and eventually this organization took the shape of the Sarvodaya Mahila Mandal on 2nd October 1953 (Mahatama Gandhi's birth anniversary), when many other women joined it. Its mission was to work and exert for betterment and progress of women and children in the field of education, morality and culture, to strive for development of fine arts, social sciences and to create interest in physical and practical knowledge, strive for creating ability and capacity in women to work and be able to establish themselves and be self reliant. This organization is now one of the most important NGO'S in eastern-Maharashtra and runs several schools and dispensaries. Radha Devi Goenka also strived for higher education of girls and started the Radha Devi Goenka Mahila Maha Vidyalaya and Radha Devi Goenka College in 1965 under the auspices of the Bharatiya Sewa Sadan, a society also founded by her.
A great supporter of the arts, having grown up in Calcutta her inclination was towards the Bengal School painters and when she got married and moved to Akola she continued her passion by patronizing the local artists from Maharashtra. Jamini Roy, amongst others, was known to be a regular visitor to her house in Calcutta.
Before her death on 14th June 2007, aged 104 years, Radha Devi Goenka bequeathed her entire collection to her great-granddaughter, who has carefully and very tastefully nurtured, preserved and enjoyed the collection for years and had also exhibited some of these works at an exhibition in 1994. On offer here are select works that are testimony to Radha Devi's eye for spotting talent and encouraging new artists, who went on to become established names and whose works are much-respected now.