Modern & Contemporary Indian Paintings

Modern & Contemporary Indian Paintings S G VASUDEV (B. 1941)
RELATED LOTS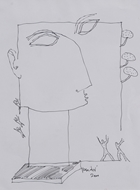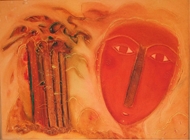 CONTACT US
Catalogue & Viewing
Lot Closed

Accounts & Shipping
Lot Closed

Provenance Provenance

From a collector based in Tamil Nadu
Literature Literature

"I never consciously use colour. The painting dictates the particular mood or texture that I might want to convey at that moment."

S. G. Vasudev essentially works with oils on canvas. Alongside, he has also explored the possibilities with watercolours, ink and metal. He is well known for his 'Vriksha' (Tree of Life) series that has evolved and acquired several forms over a span of ten years. The themes were symbolic representations of sexuality, fertility and our intrinsic associations with the times past, reminiscent of the family-tree.

Drawing inspiration from a variety of craft traditions, design and surface decorations have a strong presence in his works. Vasudev's conscious effort to relate to language and poetry is seen from his use of text in his imageries. His versatility as an artist catering to the field of visual as well as performing arts makes him a multidimensional artist. He has also fashioned tapestries in silk; exploring and highlighting the different themes that he has been working on over the past years.

Vasudev was also one of the founding members of the famous Cholamandal Artists Village near Chennai. He lives and works in Bangalore.