Modern & Contemporary Indian Art II

Modern & Contemporary Indian Art II RAMCHANDRA TANDON (1899 - 1971)
RELATED LOTS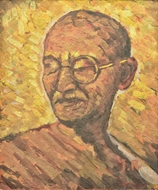 CONTACT US
Catalogue & Viewing
Lot Closed

Accounts & Shipping
Lot Closed

Provenance Provenance

Property of a Lucknow based couple
Literature Literature

Ramchandra Tandon hailed from a zamindar family of Akbarpur (Faizabad dist., eastern U.P.) who moved and settled in Allahabad for scholarly pursuits. He was a renowned Art Critic from the early 1940s to the late 1960s. His close friendship with Nicholas Roerich lead him to establish 'The Roerich Centre of Art' in Allahabad. His other very good friends included Amrita Shergil, Anagarika Govinda, R. G. Vijayvarghiya, A.K. Haldar and Kshitindranath Mazumdar.

Tandon was the first person to have translated Late Prime Minister Pandit Jawahar Lal Nehru's 'Discovery of India' and Rabindranath Tagore's 'Stray Birds' from English to Hindi. He was not only closely associated with them but also with other eminent personalities like A. N. Jha. Madan Mohan Malviya, Raikrishna Das of Banaras and Harivansh Rai Bachhan among others who profoundly respected his knowledge in the literary field. He was also known for his linguistic abilities – contemporary and ancient languages and had translated into Hindi, tales of Russian, Polish, Swedish, French and other origins. He was founder secretary of 'Hindi Sahitya Sammelan' at Allahabad and had edited and written the foreword for books of Munshi Prem Chandra, Nirala, Mahadevi Verma and Sumitranandan Pant.

Tandon's prowess as a painter was not commonly known outside his artistic and political circle of friends and this remarkable painting of Gandhi is testimony to his artistic skill.