Traditional, Modern & Contemporary Indian Art

Traditional, Modern & Contemporary Indian Art R. GIRIDHAR GOWD (B. 1965)
RELATED LOTS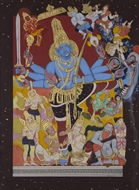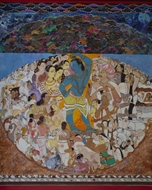 Provenance Provenance

Acquired from the artist
Private Collection
Literature Literature

"Only a dialogue with the past can produce originality" - Wilson Harris

This quote by Wilson Harris has enormous implications particularly for Giridhar Gowd an artist based at Garuvupalem in Guntur District of Andhra Pradesh. His works mark a return to tradition by infusing it with renewed vigour, vitalized vision, reinvention and redefinition. At the heart of his creative endeavour is his engagement with the country's visual art tradition particularly the murals and miniature paintings. He foregrounds these pictorial arts to serve as a conduit of creative expressions, thinking and articulating through epics, Puranic and mythical narratives. Giridhar says, I have developed an immense interest in stories, poems and historical legends from my childhood. I have always approached these legends not as religious, superstitious stories but as priceless epics, a treasure house of wisdom and as unique examples of the essence of life. (Dashavatara: Dialectics of Tradition, Rayana Giridhar Gowd exhibition catalogue, Kalakriti Art Gallery, March 2018)

Giridhar's paintings do not provide a paradigm shift but remain within the framework of tradition. Yet he creates a powerful aesthetic appeal, reflected in its intimate detailing of a well scrutinized reality, intricacies of technique, effulgent and sensitive colours, efficient linear prudency and seminally his management of stage craft in his compositional layout. The paintings attract by their colour, drama, organic movement and the beauty of its protagonists. It fulfills the artist's aspirations to return to roots by removing the veil of amnesia cast on past traditions, to pitch forth with renewed dynamism. In a predominant virtual and digital globalized world where time literally takes wings, Giridhar has cocooned himself weaving threads of imagination to spin anew the epic narratives through his personalized vision that continue to have magical charm, meaningful valence and appeal within our reality. - Dr. Ashrafi S. Bhagat (renown art historian, art critic, former head and Associate Professor of the Department of Fine Arts, Stella Maris College, Chennai)

Giridhar Gowd has created the narrative of the life of Krishna in this series titled 'Dashavatara' based on his study of the tenth chapter or the Dasma Skanda of Srimad Maha Bhagvatam. In his words "In my view the Krishna avataram cannot be viewed as an avataram reincarnated for the mere redemption of the Dwarapalakas, Jaya and Vijaya from their curse. The more I read the Dasama Skanda, the more I was subsumed by the feeling that the Krishna avataram is a poorna avataram or complete avataram exhibiting all the qualities which were visible as parts in other avatarams".