PROPERTY FROM THE COLLECTION OF NAMRATA SHIRODKAR GHATTAMANENI
Friday, June 27, 2014
"Husain saab used to be a frequent visitor to our home during the making of Gaja Gamini as my sister was a part of the movie. I had always had an admiration for his works but was now also inspired by his personality …..magnanimous and spontaneous……. I had casually expressed a desire to own a work by him and very soon he gifted me a painting depicting Horses and to my delight had even signed Chinoo on the canvas".
Model, former Miss India and popular actress Namrata Shirodkar is the granddaughter of famous Marathi actress Meenakshi Shirodkar and wife of Telugu movie superstar Mahesh Babu Ghattamaneni. She has appeared in critically acclaimed and award-winning Hindi films like 'Vaastav' and 'Astitva' besides the English film 'Bride and Prejudice' amongst other language films.
Namrata's elder sister Shilpa Shirodkar is also a wellknown actress who has appeared in many successful commercial films including M F Husain's art film 'Gaja Gamini' (literally meaning 'one with a walk like an elephant'), alongside her good friend Madhuri Dixit. It was during the making of this movie in 1998 that M F Husain used to frequent the Shirodkar household in Mumbai for the script reading sessions with Shilpa and upon hearing about Namrata's admiration for his art works did a painting for her fondly signed "To Chinoo, with love". Chinoo is Namrata's nickname.
Around the same time, as a token of appreciation for Shilpa's participation and performance in this colossal project Gaja Gamini (also starring Shahrukh Khan and Naseeruddin Shah) he gifted two paintings to Shilpa, one of which, Mother Teresa – Lot No.73, she re-gifted to Namrata in 2004 when Shlipa moved house to London. Husain had also given Madhuri eight paintings during the making of the movie that was largely inspired by her!
Now based in Hyderabad along with her husband and two young children, Namrata became interested in art from the time she moved into her own apartment in Mumbai, after her win in the Miss India contest 1993, and started doing its interiors. The painting gifted by Husain in 1998 and another by her sister in 2004 was a fillip to her quest to collect good art from the modern Indian masters and she continued to pursue her interest after moving to Hyderabad in 2005, where she also pro-actively supports her husband Mahesh Babu's involvement as the celebrity ambassador of Heal-a-Child Foundation. As her art collection evolves and changes, she is keen to make a difference to the lives of these children by a personal contribution herself through the auction proceeds of these two paintings.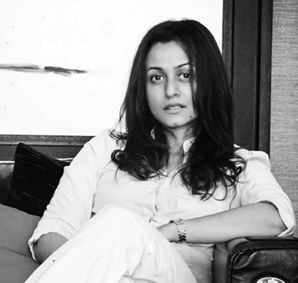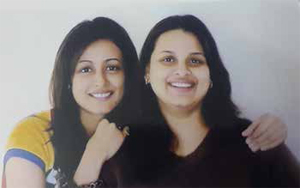 Namrata with sister Shilpa Shirodkar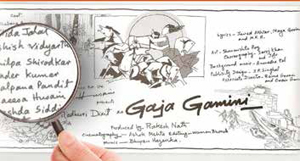 Shilpa Shirodkar's name in the star-cast list of the movi Gaja Gamini by M. F. Husain