Modern & Contemporary Indian Paintings

Modern & Contemporary Indian Paintings PARITOSH SEN (1918 - 2008)
RELATED LOTS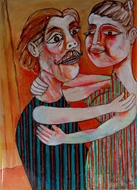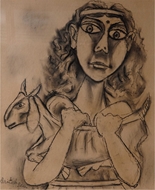 CONTACT US
Catalogue & Viewing
Lot Closed

Accounts & Shipping
Lot Closed

Literature Literature

"The success of a painting lies in the artist's willingness to deal with each painting on its own term"

A painter, illustrator, tutor and writer, Paritosh Sen has been a part of the world of Indian art for close to four decades now. Sen's more recognizable works are his caricatures, which reflect strong underlying socio-political shades and his female nude drawings. His early works were very much influenced by the Bengal school and he was a founding member of the Calcutta group in1943, which allowed him a much freer use of form, space and colour within a modernist framework.

Sen's stay in Paris had an ever lasting influence on his style of representation and in particular the influence of Picasso, that was to continue for a long period. During the 60's he used expressionistic language to talk about the political and social turmoil. On his return to India he was more concerned with the themes and realities around. His drawings and paintings are noted for their strong lines and bold, stylized strokes.