Silent Bids Auction

Silent Bids Auction MANJIT BAWA (1941 - 2008)
RELATED LOTS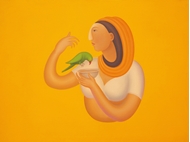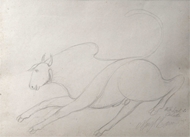 Details Details

A commentary on this painting has been written by a well-known artist who was a great friend and observer of Manjit Bawa's paintings.
A charcoal drawing of the same subject, with poetry by Pritish Nandy, was done by the artist in 1991. 
Provenance Provenance

Published in forthcoming edition (2020) of 'A Moment in Time: With Legends of Indian Art'
Property from the artists family; gifted directly by Manjit Bawa to the present owner on her 10th wedding anniversary
Literature Literature

Manjit Bawa's life and works were soaked in Sufi poetry, folktales, vibrant flora and fauna drawn from his love of the natural world and the gods and goddesses from Indian mythology. Popular figures from the Hindu pantheon dance across his canvas from Kali to Shiva and Krishna. However, he does not eschew the common man, who also features alongside myriad birds and animals.

Renowned for his exceptional figurative works in an era that was characterized by an abundance of abstraction, he was also known for his miniatures and his drawings.

From Dhuri, Punjab, the land of his birth, he went on to gain an education in the arts at the Delhi College of Art which he joined in 1958. Here, he had the great fortune to learn from masters such as Bengali greats Somnath Hore and Abani Sen. The latter was instrumental in ushering him into the world of figurative art and also perhaps into a more Indo-centric painterly language. Bawa had studied Silk Screen printing in Essex and it could perhaps be conjectured that his fixation with Indian subjects was formed due to his proximity to Sen's nationalist ideals.

Subsequent to earning his Diploma in Silk Screen printing, Bawa lived and worked in the British capital until the beginning of the seventies. On returning to India, Bawa continued painting and establishing a reputation as a legendary artist. In the 1970s, he would then return to his alma mater, the College of Art in Delhi, this time as part of the visiting faculty; another homecoming for the artist whose life came full circle from being a student to becoming a teacher.

"It is not about colour, size or even lines. The distinct painterly language grabs your attention from the moment you set your eyes on the canvas. At once, you are drawn in, losing sense of time, place and other trivia." - Ina Puri (In Black & White: The Authorized Biography of Manjit Bawa, Penguin Random House, 2017).

Bawa's works offer a sense of space, which is enhanced by his flat use of colour. However, the figures portray movement and size, in the way they are positioned and juxtaposed at various distances. His tendency towards bright colours is a stark contrast for the times, when drab greys and browns were the norm, influenced by the British.

He had a shrewd understanding of how colours would affect Indian sensibilities saying, "We have been brought up on a staple of ochres, greys and browns in art, thanks to the British. That's why when I began using bright colours the reaction was negative but I persisted.. Bright colours are closer to the heart of most Indians, familiar as they are with these shades." - Manjit Bawa (Rakesh Kumar, Encyclopaedia of Indian paintings, Pg 204, Anmol Publications, 2007)

In 2008, Manjit Bawa left the world rather before his time, at the age of 67.