Traditional, Modern & Contemporary Indian Art

Traditional, Modern & Contemporary Indian Art MANJIT BAWA (1941 - 2008)
RELATED LOTS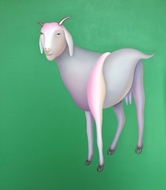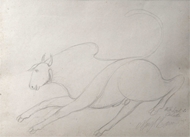 Provenance Provenance

Sakshi Gallery, Mumbai
Important Private Collection, south-India
Literature Literature

"The Kalighat patuas.....would naturally possess a particular interest and if they would be hung up in any place amongst ....other pictures, they would outshine the others not only for their different characterization but for their wonderful colour-effects and contours as well." - W.G. Archer (Kalighat Paintings, Pg 31, Victoria & Albert Museum).

This work, like many in his oeuvre, draws richly from the visual language of the Kalighat Pata paintings from the Bengal region. Painted in oil on canvas and dated 1998, the background of pure ochre seems to yawn into the distance which only serves to highlight his subjects more. The result is surreal, a luminous halo like effect almost enveloping the figures. Here, the brilliant green parrot with its flaming red beak perches on a woman's shoulder, bending to drink from a proffered bowl, the very picture of symbiosis and coexistence; this is a silent communion of man and beast, a nearly lost universal language. The draping of her headscarf is represented in sweeps of bold hue and while her arms and torso are rendered in a similar way, the rest of the figure seems swallowed by the vibrant expanse they are foregrounded in.

Bawa's works in this vein also tell of his deep fascination with the common man, which stayed alive alongside his affinity for epic mythological figures. The influence of the Kalighat tradition becomes apparent in these elements. One is overcome with the feeling of solitude that pervades the work; which is what makes this trademark piece stand apart as an oasis of stillness in an era of hustle bustle and noise.

"I think everyone's life is beautiful; I think there's a story in the lives of each one of us"
- Manjit Bawa (Ina Puri, In Black & White: The Authorized Biography of Manjit Bawa, Penguin Random House, 2017).
Notes Notes

For a more detailed essay please refer the catalogue