Modern & Contemporary Indian Art II

Modern & Contemporary Indian Art II MANJIT BAWA (1941 - 2008)
RELATED LOTS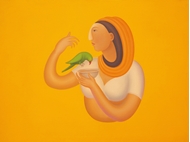 CONTACT US
Catalogue & Viewing
Lot Closed

Accounts & Shipping
Lot Closed

Provenance Provenance

Property of a Kolkata based collector
Literature Literature

A prominent name in Indian contemporary art, Manjit Bawa was born in Punjab and studied Fine Art at the School of Art, New Delhi. His professors included Somnath Hore and Abani Sen. It was under Abani Sen that he learned to respect the art of figurative compositions, at a time (1958-1963) when the trend was to favour the abstract. He went on to obtain a Diploma in Silk Screen printing from Essex and between 1967 to 1971 worked in London as a silkscreen printer. Bawa, having been a figurative painter from the beginning of his career, creates figures that are somewhat reminiscent of the 'Kalighat Pats' that were popular in the early 1900's. The delicately graded tonalities that are possible with silkscreen printing are evident in his treatment of oil colours.

Apart from his trademark paintings, Bawa is also known for his drawings. He claims that drawing is closer to him than painting - "I enjoy doing it, for it isn't decorative and loud. One can use minimum essentials to extract the maximum effect".