Modern & Contemporary Indian Paintings

Modern & Contemporary Indian Paintings K. S. KULKARNI (1916 - 1994)
RELATED LOTS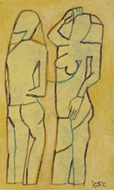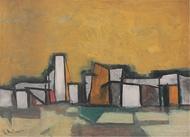 CONTACT US
Catalogue & Viewing
Lot Closed

Accounts & Shipping
Lot Closed

Literature Literature

"But, beyond the influence of Indian culture and its ethos, my horizons are universal. I am interested in the universalising of the human spirit. My concepts are not regional or tribal - spiritual and material is the matrix of my creative intent. My art springs from within and flows from my perception of the rhythm of life around me in the global context."

K. S. Kulkarni's work combines the national and modern intriguingly. The traditional theme of bullocks pulling a plough is treated in a semi-abstract Cubist manner giving the work a distinctive quality.

Kulkarni handled the oil medium with great virtuosity and at the same time had a sensitive eye for composition. His aim was to represent scenes of Indian life in a modernist style.