Modern & Contemporary Indian Paintings

Modern & Contemporary Indian Paintings KRISHEN KHANNA (B.1925)
RELATED LOTS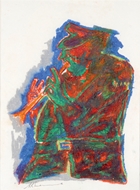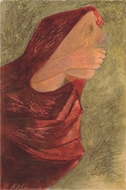 CONTACT US
Catalogue & Viewing
Lot Closed

Accounts & Shipping
Lot Closed

Literature Literature

The celebrated Krishen Khanna, who is also a qualified chartered accountant, is a self-taught artist and his art practice is rooted in the play out of his own life experiences.

His artistic techniques are unique to his personal expression and his works deliberate on the socio-religious situations and changes. Arising from his experiences during the independence and subsequent partition of the country, the representation of violent scenes and death is rather common. Parallel to this notion, his paintings vividly reflect empathy towards the ordinary people and the downtrodden. His art mushrooms from the observation and depiction of life around himself.

Apart from paintings, he is also known for his murals. He was awarded the 'Padmashri' in 1990 and continues to live and work in New Delhi.