Modern & Contemporary Indian Paintings

Modern & Contemporary Indian Paintings K. M. ADIMOOLAM (1938 - 2008)
RELATED LOTS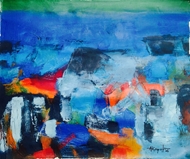 CONTACT US
Catalogue & Viewing
Lot Closed

Accounts & Shipping
Lot Closed

Provenance Provenance

From the collection of an art conservator known to the artist
Literature Literature

"My drawings and paintings help express my feelings. My drawings are not the exact copy of what I have seen through my eyes; but I feel they are the impressions of beauty, which seem to constantly get imprinted on my inner vision and emerge as black and white forms on paper"

Born in 1938 in Tiruchirapalli, Tamil Nadu, K.M. Adimoolam had a natural aptitude for drawing. Thus, he moved to Madras in 1959, where, under the advise of the sculptor Dhanapal, he enrolled at the Government College of Arts & Crafts to formally develop his skills

His signature drawing style uses doodles and complex cross-hatching to create the unique imageries that are a trademark of his works.