Modern & Contemporary Indian Paintings

Modern & Contemporary Indian Paintings KATTINGERI KRISHNA HEBBAR (1911 - 1996)
RELATED LOTS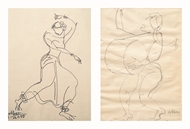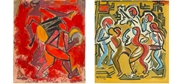 CONTACT US
Catalogue & Viewing
Lot Closed

Accounts & Shipping
Lot Closed

Literature Literature

Hebbar specialized in depicting dancers in emotion. Here we see a drummer caught in the action of carrying a huge drum and dancing with it. The artist nostalgically returns to the subject of depicting folk traditions from Karnataka.

"I have striven to assimilate in my paintings what I think is the best of my cultural heritage and of other cultures with which I have come into contact, while retaining my individual responses to life's experiences. I believe firmly that one's artworks are generated in response to an intense feeling of one's ethos. I have sought to discover my inner self and to follow the path it directs for my art"

K. K. Hebbar's work reflects the prototype of an artist who studied in the era of British colonization and pedagogy. His images were sympathetic depiction of the events like a local ritual to feed the crows or the nuclear holocaust and were captured in his characteristic decorative style with sincerity. All inspiration was composed with a conscious effort and an eye for modernist design, symmetry and aesthetics as deep inside he was a romantic at heart.

Although Hebbar belonged to the generation of the Progressive Artists Group, by temperament he was apolitical and did not join any of the artist groups officially, but shared their spirit .He was one among many in search of an individual style in the modernist sensibility.

The characteristic features of his line drawings are the depiction of folk dancers and workers. He uses continuous lines that stop at intervals and simplifies the body and gestures to its elements.