Modern & Contemporary Indian Paintings

Modern & Contemporary Indian Paintings HARI AMBADAS GADE (1917 - 2001)
RELATED LOTS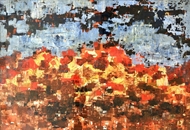 CONTACT US
Catalogue & Viewing
Lot Closed

Accounts & Shipping
Lot Closed

Literature Literature

Hari Ambadas Gade was one of the six founder members of the Progressive Artists Group and remained a member until the dissolution of the group in 1956. Gade's association with S.H. Raza and Walter Langhammer gave him great insights on painting landscapes. He had begun his painting career by painting watercolours, but later switched to oils on canvas and used both the palette knife and brush in his paintings. The non academic trend of the group made him an expressionist painter of repute.

Gade participated in several group shows of the Progressive Artists in Mumbai, Baroda, Ahmedabad and Calcutta. He had also participated in the Stanford University exhibition in 1949, the Venice Biennale in 1954 and the Indian Art Exhibition which toured eastern Europe in 1955-56. He won a 'Gold Medal' at the annual exhibition of the Bombay Art Society in 1956. He also exhibited at Basel, Switzerland in 1951 and 1956 and in Venice, Italy in 1957.