The Jodhpur Auction

The Jodhpur Auction FRANCOIS XAVIER MONNIER (1831 - 1912)
RELATED LOTS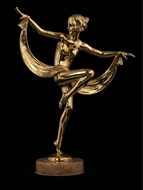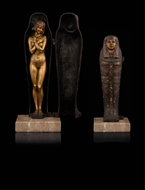 CONTACT US
Catalogue & Viewing
Lot Closed

Accounts & Shipping
Lot Closed

Details Details

A BRONZE FIGURE OF A TURKISH DANCER, late 19th / early 20th century, leaning against a large balustrade, her bodice is decorated with numerous coins, the headdress hung with tassels, on a hexagonal stand.

Francois Xavier Monnier was born in Belfort, France. He emigrated to the United States in 1862, where he worked in Michigan as a decorative sculptor until his death.
Provenance Provenance

Bought by the present owner from an auction in Mumbai in March 2002, prior to which it was owned by a Kolkata based collector who had inturn acquired it in the 1980's from a Royal Family in south-India.