Significant Indian Paintings

Significant Indian Paintings F.N. SOUZA (1924 - 2002)
RELATED LOTS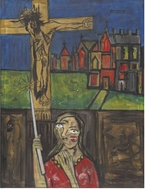 CONTACT US
Catalogue & Viewing
Lot Closed

Accounts & Shipping
Lot Closed

Details Details

A very unique work of Francis Newton Souza, where he has deviated entirely from his set style of painting. The artist is paying Tribute to Rabindranath Tagore (in all probability a special commission) and in order to execute a work of art of a protagonist of a stature of no less than Tagore, he has recreated entirely the essence of Tagore. The entire canvas is a reminiscence of the artist that Tagore was and hence Souza has incorporated his popular subjects using also his typical style of tonal effect of black and white. The black canvas is dominated with a white silhouette of Rabindranath Tagore with a flowing beard that extends till the base of the canvas. Souza has filled the silhouette with another black one, that of a capped Muslim man, in the style of portrait study done very often by Tagore. A black flowing nude female form emanates corresponding to the beard which infact is the take from Tagore's favourite subject of Peruvian motifs. Here it is that of two snakes linked together, with one being a snake woman having an impression of a hypnotic eye. In true Tagore style one thing leads to another hence the bird, on the base with its beak soaring high, emerges from the lines of the female silhouette.

The special deviation of Souza from his style, in this signed 1972 painting, is a real tribute of one artist to another making it one of the very significant works ever done throughout his career.
Provenance Provenance

From the collection of a French gentleman
Literature Literature

"But for art, man would die of boredom!" - F N Souza

"An artist can't become, he is born. The artist is in the foetus; the creative principle begins in the womb. I remember painting murals on the walls of my mother's womb." - F N Souza
                                                                                                                                                           

Francis Newton Souza, the enfant terrible of Modern Indian Art, was born into a devout Catholic Christian family in 1924 at Saligao, Goa. Misfortune courted Souza from the very inception of his life. Within three months of his birth Souza lost his father, as in his own words "like a beetle that dies having laid the egg." This was followed by the untimely demise of his sister and a severe bout of chicken pox that nearly claimed his life. His bereaved mother, in a desperate plea, vowed to send him to a seminary to be a priest, should his life be spared. It was exempted - "to bear an artist's tormented soul."

In 1940, Souza enrolled into the J. J. School of Art in Mumbai to pursue a Diploma in Fine Arts. He was later expelled for participating in the Quit India movement. In 1945 Souza joined the Communist Party of India. But the constraints of the party and his innate abhorrence of straitjacket ideology led him to leave the party. Considered to be the pioneer of Modern Indian art, Souza founded the Progressive Art Movement in 1948, which included the artists M.F. Husain, S.H. Raza, A.H Ara and S.A Gade. As Husain states, "He was the driving force behind the movement, and a mentor to a lot of us. He was an intellectual and very knowledgeable." The group however dissolved in 1956.

In 1949, Souza left for London. In the 50s, he was among the first of the post-Independence generation of Indian artists to establish a career in Britain. After six years of struggle, a solo show at Gallery One and the publication of his autobiographical piece 'Nirvana of a Maggot' in the Encounter magazine established him as an artist and writer of repute. In 1967, Souza moved to New York. He was felicitated with the Guggenheim International Award in 1958 and the Kalidas Samman in 1999. 

As a child, Souza was fascinated by his grandmother's stories of angels and tortured saints. His young mind lingered in pre-occupied musings of the phantasmagorias, angels of paradise and into hallucinating conversations with ghosts, saints, fairies and goblins. The Roman Catholic Church allured him, more so by its grand architecture and impressive services, than by its cannons of faith. "The priest dressed in richly embroidered vestments….the wooden saints painted in gold and bright colours staring vacantly out of their niches, smell of incense and the enormous crucifix with the impaled image of a Man supposed to be the Son of God, scourged and dripping, with matted hair tangled in plaited thorns. I would kneel and pray for hours."

However, being the maverick soul that he was, Souza rebelled against the staunch religious beliefs of the Church and clergy. The seed of this rebellion was instigated with his expulsion from school, by the vexed Jesuit fathers who were offended by Souza's rather candid drawings of nudes on the school lavatory walls. Disillusioned with the significance of Heaven versus the painful realities of the present, he vowed to go about life his own way.

Renowned art critic, Edwin Mullins, described Souza's vision of divine power as of "A God, who is not a God of gentleness and love, but rather of suffering, vengeance and terrible anger." It would not be wrong therefore to assume, that Souza, perhaps identified himself with the all-suffering persona of Christ whom he represented again and again in his drawings and paintings, as a tortured figure with grotesquely deformed characteristics. Christ suffering on the crucible hence becomes a recurrent theme in his works and interestingly, at the heart of it the "blond operatic Christ " is replaced by the body of a brown-skinned indegenised Christ. Souza transformed his protagonist into a suffering common man, analogous to the skimpily clad farmers toiling in the sun scorched fields of his native land or a black-skinned Negro. In doing so he brought to the fore his own feelings of religious conflict, as well as the cultural tensions between black and white, Christian and non-Christian, colonised and colonising societies.