Ostentatious Peacocks

Ostentatious Peacocks F M SOOFI (1916 - 1988)
RELATED LOTS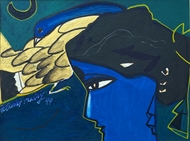 Provenance Provenance

Acquired directly from the artist
Important Private Collection, Bengaluru
Literature Literature

Fakir Mohammed Soofi was a master artist with a perfection in inlay technique and became known for his sketches of animals and compositions of flaura & fauna. His father was also an artist and having arts in his lineage he studied at the Sri Chamarajendra Technical Institute (CTI), Mysore from 1929-1933 before enrolling at the the Sir J J School of Arts, Bombay (Mumbai) in 1936.
Thereafter, alongwith stalwarts S. N. Swami and Y. Subramanya Raju, he taught at his alma mater in Mysore from 1942-1971 as instructor and subsequently as superintendent.
A recipient of the Karnataka Lalitakala Academy award in 1982 and the Rajyotsava award for Fine Arts in 1984, he passed away in 1988.