Traditional, Modern & Contemporary Indian Art

Traditional, Modern & Contemporary Indian Art COMPANY SCHOOL PAINTING
RELATED LOTS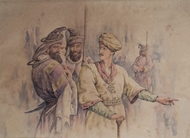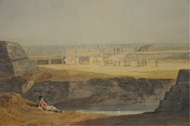 Provenance Provenance

Acquired from a prominent auction house in England in the 1990's
Literature Literature

The Company School of painting flourished with the advent of the British in India. With more and more British troops, merchants and visitors began to settle in India as the British East India Company strengthened its growing hold on the subcontinent, its presence made its way into the art world, as well. Here, elements were borrowed from Mughal & Rajput miniatures, stylized pieces that were romanticized views of India, incorporating natural vista, flora, fauna and other depictions common during the Mughal period. Since the audience for these works was primarily British, the artists would keep to the Western techniques, keeping in mind perspective and a sense of idealized realism.

This work is a watercolour on paper, an architectural study, keeping in mind the correct visual perspectives, almost reminiscent of a photograph. The lines are finely executed, the builds straight and almost photorealistic, however they have a romanticised air about them. While it feels mostly English due to the colonial structure of the buildings, the effect of the Mughal influence can be strongly seen, as well as the Indian subjects that keep it grounded in the Indian tradition and culture. To the side is what is ostensibly a church, implying a strong Christian presence. The scene is an urban study, with a Brahmin man and a child to the side, while a few apparently Muslim youths approach them with open and friendly expressions on their faces. What becomes apparent is the confluence of cultures that makes Indian society the site of pluralistic diversity.