Traditional, Modern & Contemporary Indian Art

Traditional, Modern & Contemporary Indian Art BAREN BASU (B. 1943)
RELATED LOTS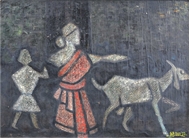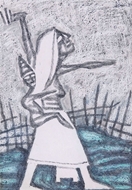 Provenance Provenance

Private Collection, Bengaluru
Literature Literature

Baren Basu, born in 1943, hails from Dhaka, Bangladesh but would move to India in the aftermath of the Partition.1967 found him graduating from Calcutta's Government College of Art and Craft. He was honoured with the Special Scholarship from the Academy of Fine Arts, Calcutta in 1970. In 1972-1973 he was awarded the Government of India National Cultural Scholarship in painting. The Lalit Kala Akademi has also feted him with awards and he won the Man of the Year, USA, ABI in 1997. He was also featured in numerous publications such as Les Editions Art of Images-du-Monda, Paris, 1992, American Biographical Institute, USA, 1990 and Artist Directory: Lalit Kala Akademi, New Delhi, 1981, among various others.

A majestic Durga with ten eyes painted in 1989, this is a work that is at once understated and dramatic. The use of only a few colours, earthy reds, yellows and whites, seems like a judicious decision so that the form of Maa Durga can take centerstage in her demon slaying glory. Here she is depicted victorious over the buffalo demon, easily trampling him, her trident held aloft in calm triumph. It is a work radiating female power, and, it is important to note, this episode is steeped deep in Bengali culture, where Durga Pujo is deeply embedded, making this a strong emobidment of the traditional and contemporary.
Condition Notes