The Jodhpur Auction

The Jodhpur Auction BAMAPADA BANERJEE (1851 - 1932)
RELATED LOTS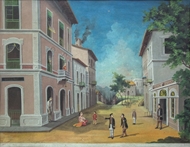 CONTACT US
Catalogue & Viewing
Lot Closed

Accounts & Shipping
Lot Closed

Literature Literature

Bamapada Banerjee received his initial training in painting at the Calcutta Art School. However, disillusioned with its pedagogy, he left Art School and began training with Pramathalal Mitra. Later, he worked as an apprentice to the German painter Karl Becker, who was then living in Calcutta. Banerjee's popularity rested on his paintings that frequently illustrated Hindu mythology. He was deeply influenced by the European style of painting and excelled in it. Hence, he painted Indian and Hindu mythology in the European style, creating a great demand for his paintings. Though a junior contemporary of Raja Ravi Varma, the most influential artist of the time, Banerjee evolved an individual style and dominated the popular taste for decades through reproductions of his works, most of which were printed in Germany.

Towards the end of the great Mahabharat war, Lord Indra comes in the guise of a destitute old man to seek alms from Karan, who was under an oath to never refuse charity. This painting shows Karan offering an old poor man, bent with age and destitution, a Kavach that is embedded in his arms and is retrieved by culling with a knife. This seems like the only piece of jewellery that he has left to offer. Even as he gives it to the old beggar, Karan is aware of Lord Krishna's ploy and that Lord Indra has been sent in the semblance of an old beggar to deprive him (Karan) of his only opportunity of being eternal. Besides, for Lord Krishna perhaps this could be the only way the Pandavas could annihilate Karan and win the Mahabharat war. Karan's wife depressed by the situation quietly stays aside.

What makes the painting intriguing is the presence of the ceremonial elephant with a carriage in the clouds, as if descending from heaven. Framed in its original ornate and very decorative frame, the painting is enhanced further. It is apparent that this painting adorned a palatial home.