Significant Indian Paintings

Significant Indian Paintings A.R. CHUGHTAI (1897 - 1975)
RELATED LOTS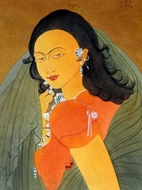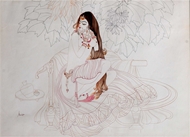 CONTACT US
Catalogue & Viewing
Lot Closed

Accounts & Shipping
Lot Closed

Provenance Provenance

Private Collection, Jaipur
Literature Literature

Chughtai's pictorial symbolism often refers to the romance of an absentee lover, rooted in the passionate verses of literary geniuses like Iqbal. Perhaps even more so, since both suffered from discontented consequences of unrequited love, which led to their idolisation of women as ethereal beings of intense mystery.

In the present untitled lot, Chughtai creates the image of a sensuous doe-eyed beauty, lost in amorous contemplation that apparently brings a smile to her face that she tries to hide behind a raised hand. From her attire the woman appears to be of Kazakh descent as she wears the traditional 'tantour' consisting of a tall headgear covered in veil, as the furnished image implicates. It is a known fact that Chughtai based his art on the three point ideal of draughtsmanship, research and improvisation as all of his masterpieces project.

Chugtai's stunning use of space and perspective in this work, in relation to the central form,is praiseworthy. Not unlike the great Oriental masters of scroll-painting, he commands the vertical space with graceful swooping lines that in turn defines the contour of the figure with dexterity. The color palette is soothing and radiant without being gaudy. He preferred to work on a particular range of papers made in Germany and England incorporating a uniquely styled method of was painting regarding which he boastfully once said – "I claim that if you were to immerse my paintings in water and let them lie there for a very long time even then, when you take them out you will find the colours as bright and as fast as ever. "
Notes Notes

Born in Mohalla Chabuk Sawaran at the old city of Lahore, Abdur Rehman Chughtai, was the celebrated exponent of the Neo Bengal School and a pioneer among the artists in post-independent Pakistan. Hailing from an affluent family of architects, Chughtai's kin was proud of their esteemed Persian ancestry and its inherent traditions.

Chughtai received his formal education at the Mayo School of Art (1911 to 1914). Following this he embarked on a trip to India whence he met members of the Tagore family and was enlightened with the ideals of the Neo Bengal School, although he felt some reservation regarding particular aspects of Abanindranath's image-making. From 1924 onwards Chughtai began to work independently and in keeping with the revivalist spirit of the Bengal School, sought inspiration from Persian and Mughal miniature styles as well as the "Naqsh" or pattern-making attribute evident in Islamic decorative arts.

His paintings, conspicuously espoused the Islamic cosmopolitanism, envisioned by the prominent poet-philosopher Muhammad Iqbal. According to the art historian Akbar Naqvi he was "…. a painter who was committed to the imaginative provenance of the Persian Sufi and the Hindu mystical tradition of art which saw Reality disguised behind the infinite veils of appearances."

Chughtai was honoured with several prestigious awards like Pakistan's Hilal-i-Imtiaz in 1960,and the President of West Germany's Gold Medal in 1964. The Government of Pakistan considered him a National luminary and therefore gifted his paintings to distinguished visitors. His paintings are in the collection of the British Museum, the Victoria and Albert Museum, the Peace Palace (in The Hague), United Nations Headquarters, New York, the Kennedy Memorial in Boston, the US State Department (in Washington D.C.), President's House Bonn, Nizam of Hyderabad's Palace, Queen Juliana's Palace in the Netherlands, Emperor's Palace Bangkok, President House Islamabad, Governors' Houses in Lahore and Karachi, and the National Art Gallery, Islamabad.