Modern & Contemporary Indian Paintings

Modern & Contemporary Indian Paintings A. A. ALMELKAR (1920 - 1982)
RELATED LOTS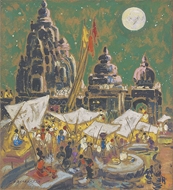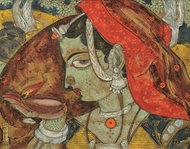 CONTACT US
Catalogue & Viewing
Lot Closed

Accounts & Shipping
Lot Closed

Provenance Provenance

From a prominent collector whose family had patronized the artist
Literature Literature


Abdulrahim Appabhai Almelkar established an important place for himself in Indian art by developing a painting style that was a unique combination of traditional Indian styles with elements of folk and tribal art. Hailing from Gujarat, he studied at the J.J School of Art in Bombay. An avid traveller, Almelkar visited many South East Asian countries and created paintings based on these visits.

Almelkar's early paintings show the influence of N.S. Bendre and Walter Langhammer. These paintings depicted the life of common people. Around 1955 his style and technique changed dramatically: he combined the decorative elements of the traditional Indian style with the simplicity and vitality of colour of folk art creating a two-dimensional effect. He eliminated the chiaroscuro and started using the flat colour application by dabbling with a cloth. He also started using ordinary brown paper or thick cardboard taking advantage of its natural texture and tone. All this imparted a rare dynamism to his paintings.