Modern & Contemporary Indian Art II

Modern & Contemporary Indian Art II A. R. CHUGHTAI (1897 - 1975)
RELATED LOTS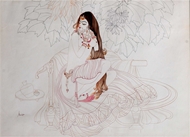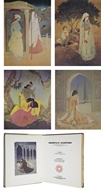 CONTACT US
Catalogue & Viewing
Lot Closed

Accounts & Shipping
Lot Closed

Provenance Provenance

Private Collection, Rajasthan
Literature Literature

Born in 1897 in Mohalla Chabuk Sawaran (later known as Lahore), Pakistan, to a family proud of their Persian roots, painter – poet Abdur Rehman Khan Bahadur Chughtai was the first prominent Indian Muslim artist. Having started his painting career under the influence of the Bengal School and initially creating works based on Hindu mythology, in the 1920's Chughtai began to get influenced by the pan-Islamic poet-philosopher Muhammad Iqbal (1877-1938) and gradually veered towards Persian, Mughal and Pahari paintings, marked by the publication of Muraqqa-i-Chughtai in 1928 which was an illustration of poems by Mirza Ghalib.

Chughtai's talent in draughtsmanship, also owing to his tutelage at the local mosque under his uncle (a calligraphy artist), combined with his expertise in European drawing enabled him to create works with meticulous precision and élan as is evident from the painting illustrated here - free flowing lines, selection of colours with sensibility and the trademark romantic theme. His works have a unique lyrical quality and were inspired from the poems of either Rumi, Omar Khayyam , Saadi or Ghalib.

A recipient of the Musoorie Fine Art Prize for three years in a row – 1921, 22 & 23, Chughtai had also received awards from the Bombay Art Society and a silver and bronze medal from the Madras Art Society. After the partition of the country, the internationally acclaimed Chughtai continued to live in Pakistan where he was honoured with a declaration proclaiming him 'National Artist of Pakistan'. He was also given the President's Pride of Performance Award. In 1951 a book titled 'Chughtai's Indian Paintings' was published in Delhi. He passed away in his native Lahore in 1975.